Eastern Air Lines Douglas DC-3-G2 NC16082 (c/n 1949)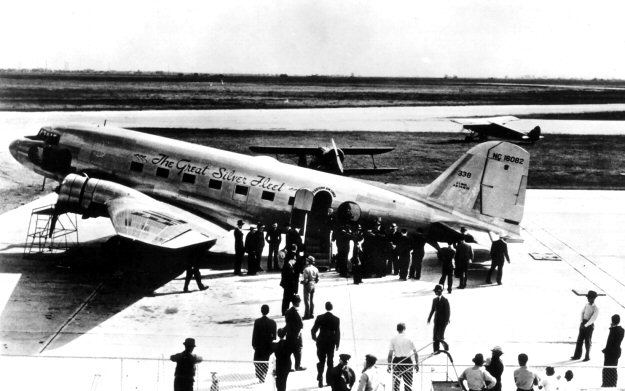 Early in 1938 North American Aviation which had been conducting both manufacturing and also an
operating division, were pressured by the government to dispose of Eastern Air Lines. Alfred Sloan,
Chairman of General Motors (holding company of NAA) agreed to let Rickenbacker buy it out. Thus
the Captain became CEO and president of EAL, thus saving the airline for the people who had built it
.The DC-3 above was delivered to "The Great Silver Fleet" in May of 1937. It was one of a dozen
or so in the first order, although the airline went on to operate almost 100 of them at one time or another
before they were phased out in the early 1950s. Looks like all the passengers on this occasion were
businessmen. Incidentally this particular DC-3 was impressed into service during WW II as a C-49D
and went on to become a Dakota with the RAF in India bearing serial number LR235. It was struck off
charge following a crash at Tezpur in early 1943.