Downeast Airlines Piper PA-31 Navajo N518DE (c/n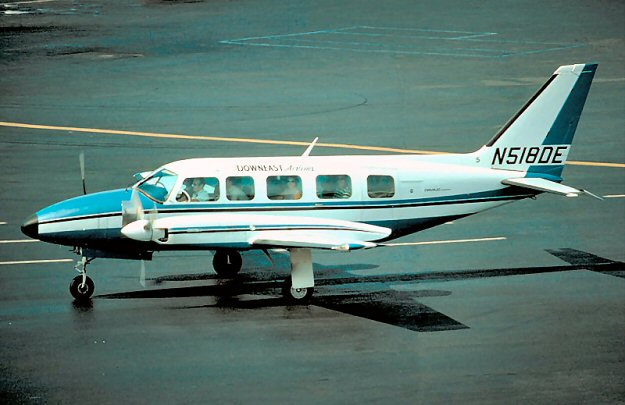 Downeast Airlines was a Third Level commuter carrier founded by Robert Stenger at Knox County
Airport in Rockland, Maine in 1960. It began as an FBO and charter outfit under the name Mid-Coast
Airways . In 1968 when Northeast was being merged into Delta, the the latter airline (the buyer) applied
to the CAB be allowed to discontinue the Boston to Rockland route which NEA had been flying for
years. Stenger applied for, and was qualified as, a Part 135 commuter airline to continue this service
and began scheduled operations, taking over the route from NEA/Delta. At that time the airline changed
its name to "Downeast", a local term used to describe that area from Rockland south to Portland, Maine.
At the time the company operated two Piper Aztecs, which were quickly augmented with 4 Piper Navajos,
one of the which is seen above in this image by Tom Hildreth at Boston's Logan Airport in July 1975.
In 1980 Stenger sold the Boston to Rockland route to Bar Harbor Airlines, but continued his air-taxi/
charter business until 2007 when it was sold to Rockland Airport Partners, LLC (dba Maine Atlantic
Aviation., .


Footnote:


In 1978 Downeast purchased the DHC-6 Twin Otter N659MA from Air Illinois and re-registered
it N68DE On 30 May 1979 N68DE was operating Flight 46 from Boston to Rockland when it
crashed into a heavily wooded area about 1.2 mi south of the Knox County Regional Airport at Rock-
land, ME on final approach. Only one passenger of the two crew members and 16 passengers aboard
survived, and he was severely injured. The following is an excerpt from the ATSB report which
investigated the accident::
"... the probable cause of the accident was the failure of the flight crew to arrest the aircraft's descent at
the minimum descent altitude for the non precision approach, without the runway environment in sight,
for unknown reasons

*.

Although the Safety Board was unable to determine conclusively the reason(s)
for the flight crew's deviation from standard instrument approach procedures, it is believed that inordinate
management pressures, the first officer's marginal instrument proficiency, the captain's inadequate super-
vision of the flight, inadequate crew training and procedures, and the captain's chronic fatigue were all
factors in the accident."
*

In other words, the airline's management style, which indicated that the pilot had to get into the
airport at all costs (to save expenses)

or else

, was the true reason why the captain did not seek an
alternate airport (or even return to BOS). Twenty years on, this crash is still cited when discussing
"bottom line" versus safety in the airline industry.