Delta Air Lines Douglas DC-3 NC28340 (c/n
3277)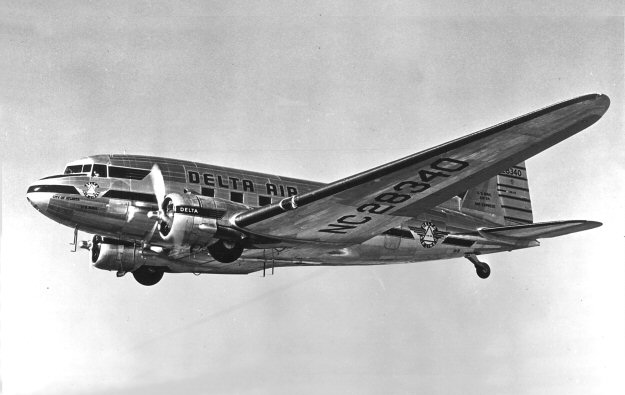 The above shot has long been one of my favorite airliner photographs, and was one of the first
in my airline collection. I acquired it from Delta Air Lines in 1947 when I was 16 years old.
DC-3s were placed into Delta service starting in 1941. All told they operated roughly 25 of
them. During WW II several of their aircraft were impressed into service while the airline itself
performed pilot and mechanic training in addition to military cargo flights. In the post war era
the airline was granted route extensions to Chicago, Knoxville, Charleston, S.C. and Miami
(via Jacksonville). In 1951 Delta, along with most other carriers, effected the new "white
top" look, and with it a totally new paint scheme. Below is an image of the same machine,
by now having the shed the "C" of "NC" loading passengers at Atlanta in 1953.
On 1 May 1953 Delta merged with Chicago and Southern Airlines, adding 22 domestic cities
and a Caribbean route to their network. At the time this occurred, in deference to the loyal
C & S employees, all Delta machines were repainted with the dual title of Delta-C&S.
However, the corporate name remained Delta Air Lines, Inc. Despite their veiled promises
that it wouldn't happen, the "C&S" bit was quietly dropped after about a year and yet another
U.S. airline legend dropped into obscurity.