Delta Air Lines Douglas DC-2 120 NC14275 (c/n 1308)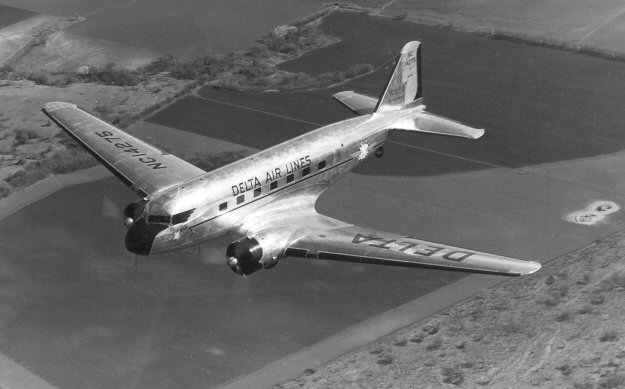 With the introduction of the DC-2 in 1940, Delta put stewardesses on board (to the obvious relief
of the co-pilots - see my note on the Lockheed 10-B, previous page). Incidentally, at that time all
stewardesses had to be registered nurses. Two new routes were added in 1941, being Atlanta to
Cincinnati in the north and to Savannah in the east. Finally, on 1 March 1941, Deltas' corporate
offices were moved from Monroe, La to Atlanta, Ga. The above photograph was taken by Polly
Smith for Delta Air Lines, and an excellent one it is, too. One wonders what the "chase plane" was?
NC14275 was a former American Airlines aircraft. In 1941 after only a year of Delta service it
was impressed into military serrvice and was one of several DC-2s alloted to the British Purchasing
Commission and shipped to SEAC Command in India. . Owing to the US's stance on neutrality
it was ostensibly given the civil registration VT-AOV, but was probably immediately camouflaged
and assigned RAF serial DG473 once it got there. It was damaged beyond repair in June 1942.