Delta Air Lines Boeing 777-232ER N867DA (c/n 29743)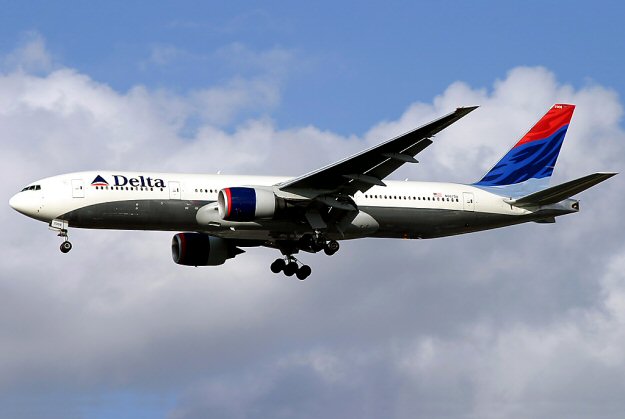 Another excellent shot from the Steve Hill collection. This 777 is on short finals into Atlanta's Hartsfield
International Airport in December of 2003. Although physically similar to the 767-400ER, the 777 is
actually quite a bit larger and has longer range. Seating up to 440 is possible (although I would not like
to journey long distances on one so configured). Since first putting the 777 into service in 1999 Delta
has run into a financing crunch (see below) and has had to defer the deliveries of some aircraft. As of
early 2006 there are only 8 of these handsome machines in service (with 5 on order).



Footnote on Delta Airlines:



Delta Air Lines filed for Chapter 11 bankruptcy protection in September 2005. This was the first time
in the 76 year old history of the company that it was forced to do this. The Board of Directors voted to
so file in the the "best interests of the company". At the time of the filing, Delta had $20.5 billion in debt,
$10 billion of which had accumulated since January, 2001. There was talk of merging with Northwest
Airlines but that appears to have come to nought. An announcement was made outlining the restructuring
of the company, targeting an additional $3 billion per year in cost reductions by 2007. Part of this includes
altering its network structure by "right-sizing" hubs and increasing point-to-point routes. Other savings are
slated to come from debt relief, lease and facility savings, and fleet modifications. Non-union workers'
salaries will be reduced by a minimum of 9% across the board, with a 15% reduction for executive officers
and a 25% pay cut for CEO Gerald Grinstein. The company plans to reduce domestic capacity by up to
20% while growing the more profitable international route capacity by 25%. New routes in this segment
include Atlanta to Moscow, Edinburgh, Tel Aviv, Nice, Dusseldorf, Copenhagen and Venice and New
York to Budapest, Dublin and Manchester, England . Based on these new initiatives, Delta projects a
return to profitability within two years based on a crude oil price model of $66 per barrel, in contrast to
other bankrupt carriers' restructuring models based on $55 per barrel. The saga continues.