Delta Air Lines Airbus A310-324 N821PA (c/n 458)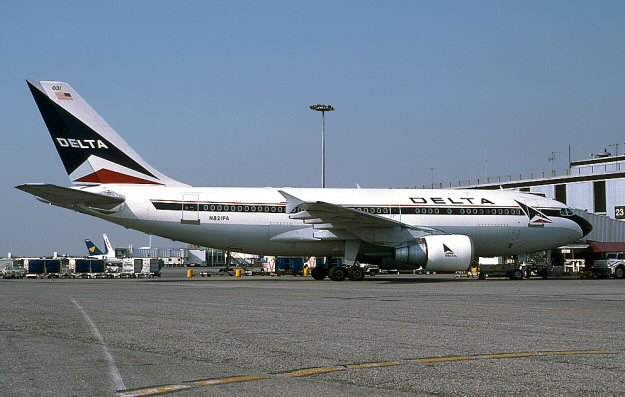 In 1991 Delta Air Lines purchased the dying Pan American World Airways' European routes
(plus their domestic Shuttle) making Delta a truly global operation. With the Pan American route
acquition they also picked up some 20 of that former carrier's Airbus A310's. N821PA seen
above at New York's JFK International Airport in 1993 in this nice shot by Michael McLaughlin
was one of them.. There have been suggestions that Delta were unhappy with the perfomaance
(or rather the "up" time) of their Airbuses, and it is true that the ex Pan American machines were
disposed of within three years. However, Delta then ordered at least nine new Airbus A310s of
their own in 1994. Why would they do that if they weren't happy with them? Anyway, N821PA
was the former "Clipper Queen of the Skies" and was sold in 1994 to Diamond Sakha Airlines
under French Overseas registry as F-OGYN. After four or five years of being leased to various
Russian outfits (including Aeroflot) it wound up as a freighter with Fedex as N806FD, with whom
it is still (early 2006) flying.