Continental Airlines Vickers 812 Viscount N245V (c/n 358)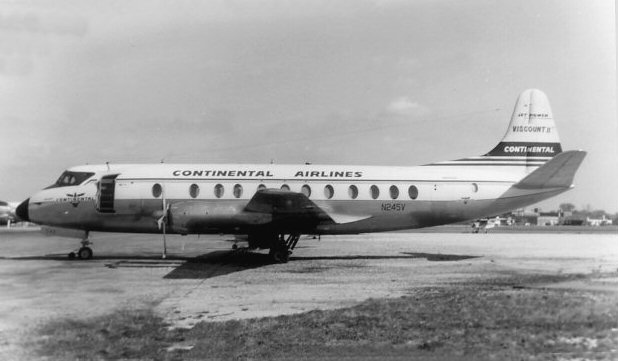 Bob Six, president of Continental began negotiations with Vickers as early as 1955, following
the success that Capital Airlines was having with its Viscounts. Continental ordered the model
810 which was a stretched version offering 15 more seats than the original design. The 810
series were dubbed "Viscount II". Continental's first Viscount schedule was flown on 14 Feb-
ruary 1958 on the Chicago - Kansas City - Los Angeles route. When the jets arrived in 1967,
most of Continental's fleet of Viscounts were sold off to Channel Airways in the UK. For some
reason photographs of Continental Viscounts are fairly rare. The above image is from the Jennifer
Gradidge collection.