Continental Airlines McDonnell Douglas DC-10-30 N14062 (c/n 47863)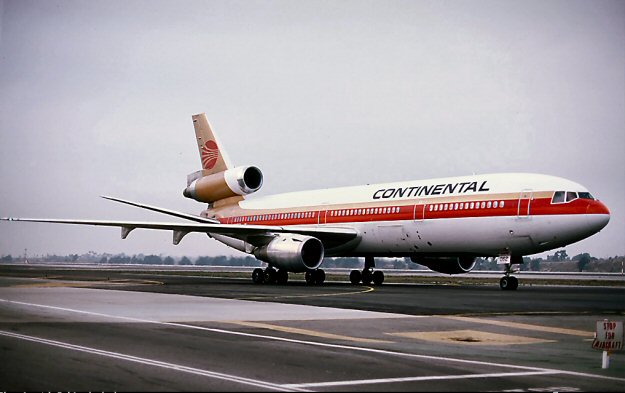 Continental ordered a fleet of 16 series 10 DC-10s in 1972. Eight of them were freighters. Since
then they acquired a substantial fleet of the longer range series 30s (35 plus) although these were all
"previously owned" examples. They came from all over: Swissair, Iberia, Lufthansa..... you name it.
N14062 was the former Alitalia I-DYNI. It was traded back to McDonnell Douglas in 1982 and
registered in the US as N3878M. Continental acquired it in 1984, re-registering it into their series a
year later.. The above image, taken by Ted Quackenbush at LAX in December of 1986 shows off
the mainplane flap rails and tailplane dihedral of this "heavy" to advantage.



Footnote to the First Bankruptcy:



In 1978 President Carter deregulated the airlines. That meant "anything goes". No longer did the
airlines have to battle with the CAB about routes, competition and monopoly. They could fly any-
where. And they did. All kinds of up-start airlines were created overnight to compete with the "big
boys". Likewise, many of the "big boys" took this as a carte blanche O.K. to expand their routes
dramatically. Many seemed to do it willy-nilly with little regard to "over-stretching". Caught up in
this maelstrom was Continental. It was "merge or go under" time. After a merger with Western fell
through, Continental was purchased by Texas International Corporation (parent company of Texas
International Airlines, the former Trans Texas). Its CEO was corporate pirate Frank Lorenzo who
became boss of Continental and immediately filed to re-organize it under Chapter 11 or the Federal
Bankruptcy Code. Most of what had been Continental Airlines at that point in time was liquidated.
The airline was forced to abandon its hub at LAX and moved to Houston. The old Texas Inter-
national routes became the basis for the "new" Continental. What was left of the old airline was
more or less branded as a "low cost' outfit. Fortunately, the South Pacific routes and the Micronesian
operation were left more or less intact The point of this diatribe is this: Is the airline after this point in
time the same airline that was formed by Walter Varney in 1934? Well, hardly. However, for the
purposes of my pictorial history I am going to assume it

is

the same line, although in reality it is a differ-
ent airline under the old name. Anyway, after a period in 1983-84 where the airline was almost non-
existent, it started up again in 1985 with flights from Houston and Newark to London. It officially
emerged from bankruptcy in 1986, and in that year Lorenzo acquired Frontier Airlines and merged it
into Continental. In the meantime (1980) Lorenzo had formed New York Air, a non-union carrier
designed to compete with Eastern Air Lines' Shuttle. In 1986 he purchased People Express. Deciding
that three airlines (Frontier, People Express and Continental) was too unwieldy, he elected to name the
resultant merger

Continental

(he could just as easily have decided to retain the People Express or
Frontier handles). However, such was the size of PE at that the time that, coupled with whatever CO
still had plus Frontier's routes, made it the third largest airline in the US. Ironically, PE's founder and
CEO was a former Frank Lorenzo protégé by the name of Don Burr who had quit Texas International
to found People Express (which is probably the reason Lorenzo elected not to use that name). The
same Don Burr who is now (2006) trying to start an "Air Taxi" concept, using low cost small twin
engined jets.