Command Airways Shorts SD-330 N51DD (c/n SH.3004)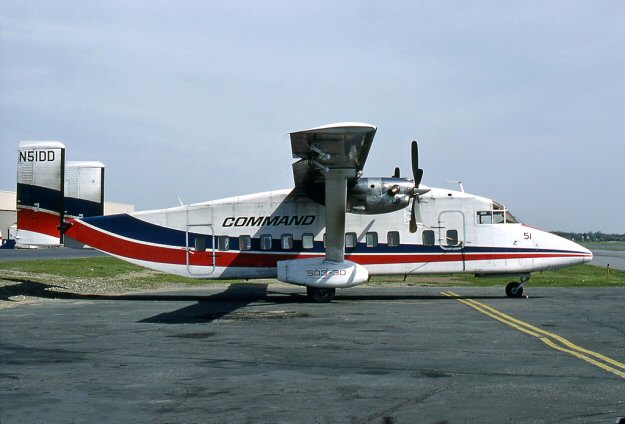 Command Airways began a conservative expansion of its operating area which was somewhat
accelerated by its taking over the Pittsfield, Mass to La Guardia route from Executive Airlines
in 1971. Command soon changed the New York terminal point to be that of JFK. In 1976
the airline became the first in the world to offer scheduled service with the box-like Shorts 330.
With this machine it was able to double its passenger traffic in the early 1980s. Seen above in
this shot by Bob Garrard is the first one of the fleet at Albany International (County) Airport in
May 1981. So satisfied with the aircraft was Command that it bought seven of them from the
manufacturer new, plus a "previously used' example. Seen below in the photo from my own
collection is a line up of the original seven at Dutchess County Airport, Wappinger Falls, NY in
1983. Nearest the camera is the last one (of the new ones) delivered, N155DD (c/n SH.3093).