Command Airways Aeritalia ATR-42-300 N140DD (c/n 009)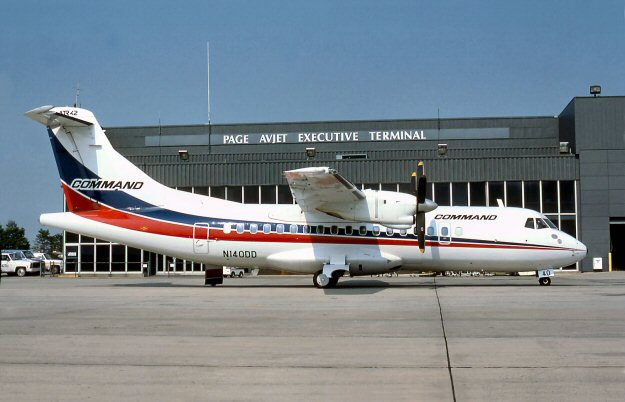 Following the taking of his company public in 1983, Kingsley G. Morse, CEO of Command Airways,
ordered a modest fleet of five Franco-Italian ATR-42s for the airline's rapidly expanding network.
Not only was the airline the first in the US to introduce this sleek looking turboprop, but it was the
third worldwide Shortly afterward, in May 1986 Command became the first airline to become a
component of the American Eagle code-sharing system. The above shot by Bob Garrard taken at
Dulles International Airport in Washington, D.C. inSeptember of 1987 shows the aircraft still in full
Command livery. It would soon be repainted in American Eagle markings. In 1988 AMR Corp.,
the parent company of Ameican Airlines, purchased Command Airwayss and renamed it Flagship
Airlines. Eventually all American Eagle components would be certified under the common name
American Eagle Inc.


Note

: In 1987, Command acquired a fleet of six Shrorts 360s. I have not been able to locate a
photograph of one, albeit that these machines would undoubtably have been painted directly up
in American Eagle livery.