Chicago Helicopter Airways Sikorsky S-55 N874 (c/n 55-1004)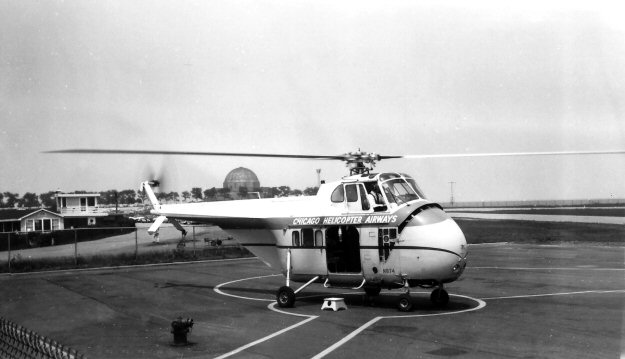 Chicago Helicopter Airways was begun as Helicopter Air Services at Midway Airport in 1949,
to provide an air mail shuttle to the Chicago Post Office. A fleet of Bell 47Ds was used. The CAB
allowed passenger services in 1954 and in 1956 the name was changed to Chicago Helicopter
Services. Meanwhile the route had been extended to include the new O'Hare Airport, and several
points within the Greater Chicago area. Several Sikorsky S-55s were acquired, one of which is
seen above at Midway in 1957. The airline provided extensive service to and from the two airports
in the early days of O'Hare, transferring personnel and equipment from Midway.