Chicago & Southern Air Lines Lockheed L-649A Constellation NC86521 (c/n 2642)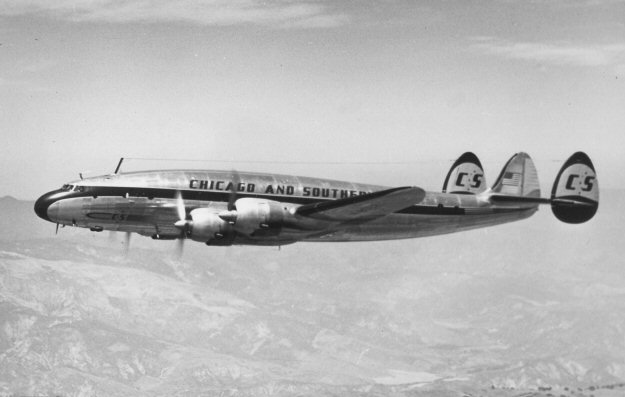 By 1950 the DC-4s were showing signs of wear and C & S went ahead and ordered six new
Constellations of the 649A variety directly from Lockheed. As was the style in those days,
the registration was painted in 3 inch letters high on the fin. On the original print, by enlarging
it greatly, the identity of this aircraft can be faintly discerned! This practice was common. I
remember standing directly under the tail of a TWA Constellation and could scarcely make
out the N number from the ground at a distance of some 10 meters! By the mid 1950s, this
practice was not only discouraged by the FAA but, in fact, outlawed. It became a requirement
to paint the registration on the fuselage sides of all aircraft in numbers large enough to read from
50 yards. I see nowadays, however, especially with the airlines, owners seem to have slipped
back to the point that some of them are scarcely readable again.

In May 1953, Chicago & Southern Air Lines merged with Delta Air Lines (to become Delta-C&S
briefly), and another pioneer on the U.S. airline scene vanished into obscurity.

The shot below taken at New Orleans in 1952 is certainly nostalgic. Considering that C & S only
had six Connies, that three of them are at gates in this shot indicates some careful scheduling. The
registration on the nearest one can be seen as a slight smear ahead of the rudder hinge on the top
of the fin!