Central Airlines Douglas DC-3 N49541 (c/n 7340)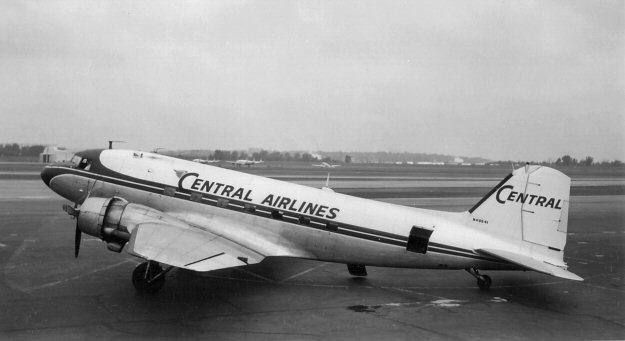 When Central became serious about adding passengers to their routes, clearly the Bonanzas
were not hacking it.....not only that, but even in those days, if a passenger showed up for a flight
and was pointed towards a Bonanza on the ramp, that might be the last time one would book with
that airline! Consequently a modest fleet of DC-3s was acquired in 1950. This shot, circa 1953
was made at the time when miniscule registrations on the fin were the order of the day. On the
original print I can assure you that it is, in fact, N49541. This aircraft was an ex C-53D-DO (a
civilian destined machine) built in 1942 and immediately impressed into the USAAF with serial
number 42-15545. Central's route system at that time was from Fort Worth north into Oklahoma.
This was later expanded into services into Kansas, Missouri and Arkansas.