Central Airlines Convair 600 N74858 (c/n 171)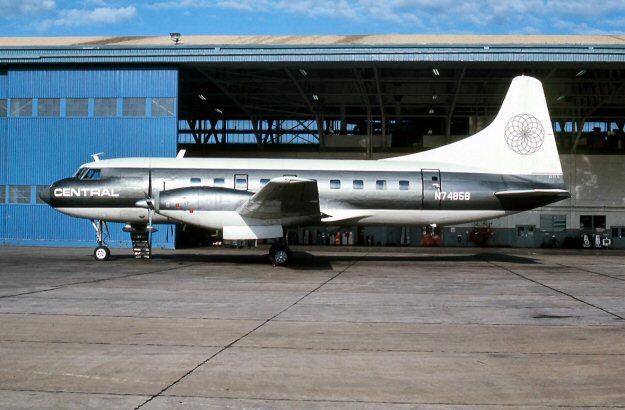 Central were the first airline to have their Convair 240s converted into Rolls Royca Dart powered
Convair 600s. In fact, the only other carrier to opt for the British powered conversion was Trans Texas.
Concurrent with the conversion came the smart new paint job in black and white, seen above in this
brilliant shot by the indefatigable Bob Garrard at Meacham Field, Fort Worth, Texas in July of 1970.
I have a black and white photograph of this machine supplied by Central, but in monochrome the livery
looks even less spectacular than Trans Texas' Convair 600s did when they were first painted! In the
late 1950s and early 1960s the Local Service Airlines were constantly battling with the CAB to allow
them to expand their route structures. By the middle of the 1960s they had gained some leeway in this
respect. Now, however, the onus was with the lines to operate their hard won franchises in the face
of fierce competition with the trunk carriers. By the middle of the decade it was clear that many of them
were not making it. Central was one of the first to succumb. A September 1966 application with the
CAB to merge with Ozark Air Lines was rejected, but on 4 May 1967 it did agree to a merger with
Frontier Airlines. This was consummated on 1 October 1966, with Frontier coming out as the
dominant airline.