Catalina Airlines de Havilland D.H.104 Dove N4161B (c/n 04307)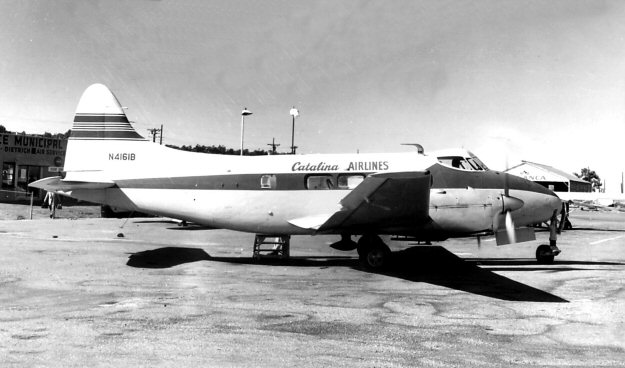 Formed in 1955, Catalina Airlines was a small airline providing service from Long Beach and
Palm Springs to the Avalon Airport, which is high on the hill overlooking the town. The airline,
which had no relationship whatsoever to Dick Probert's Avalon Air Transport (later to become
Catalina Air Lines), folded on 1 November 1959. Faced with the competition of the more
glamorous seaplane operators, it was tough for a land based airline to compete for the Catalina
trade. Part of the problem was the remoteness of the island's airport. N4161B had been
imported into the US in 1951 as N4956N, then was re-registered N200M before being acquired
by Catalina Airlines who again re-registered it. It is still currently registered to Galease, Inc of
Galveston, Texas, but is not, so far as I know, still airworthy.