Cascade Airways BAC-111-201 N102EX (c/n 09)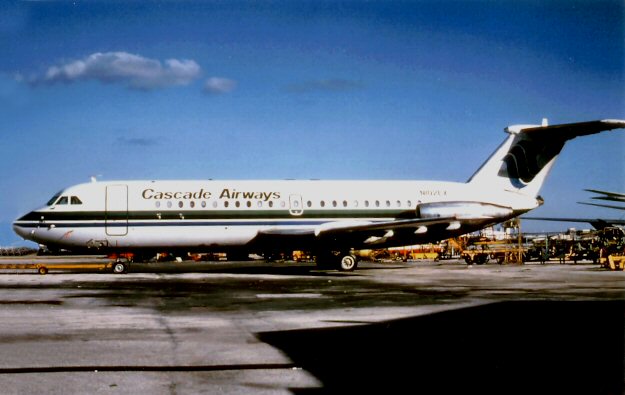 Cascade, in 1984/5, suffered from the "too rapid expansion" syndrome and was basically under-
capitalized (for jet operations) when CEO Mark Chestnutt decided to acquire a fleet of BAC111s.
Three of the 200 series came from open storage in Las Vegas and were ex-Pacific Express machines.
including N102EX above, originally a British United Airlines early machine when first built in 1964.
In the event, Cascade filed for Chapter 11 bankruptcy in August 1985 and finally closed down on
7 March 1986. By that time its niche market had been seriously eroded by Horizon Air, and this,
along with its propensity of operating too wide a variety of aircraft, some too small and some too large,
spelled its doom. In the end it found itself operating from Spokane to as far afield as Salt Lake City,
Calgary, Pocatello, Butte, and Reno. Many of its routes were later taken over by Horizon Air, although
that line did not, as some sources state, purchase Cascade Airways. .