Caribbean-Atlantic Airlines Douglas DC-3 NC21787 (c/n 2186)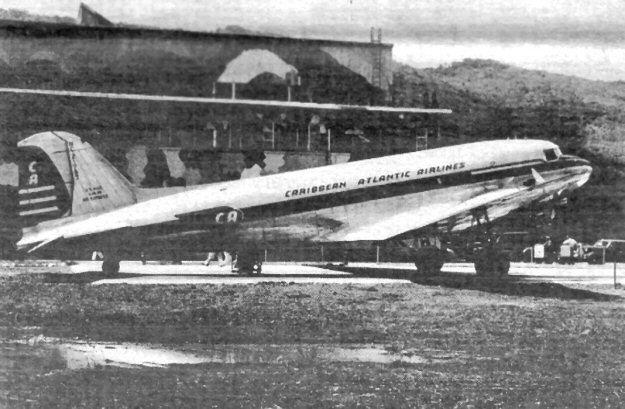 Caribbean-Atlantic Airlines (Caribair) was incorporated on 27 February, 1939 as a result of a name
change from Powelson Air Service. Powelson sold the airline in 1946 to Dionisio, Benigno and Juan
Trigo, three brothers with business interests in Spain. Plans for expanding the airline throughout the
Caribbean were envisaged. Early on in its life it became the subject of an aborted take-over attempt
by National Airlines (until the CAB caught on) whereby NAL sent a couple of their Lodestars and
crews over to Puerto Rico to fly services for the fledgling line. These were soon sent packing back to
Florida by the CAB and in the meantime Caribbean Atlantic acquired its own DC-3s. As can be seen
in the above rough, newspaper clipping (courtesy of the Jose Alfonso collection, via William W. Sierra)
NC21787 came from Pennsylvania Central Airlines. The livery was virtually unchanged by the simple
expediency of erasing the "P" from Pennsylvania so that it lent itself to becoming CA airlines!