Caribbean-Atlantic Airlines Douglas DC-3 NC79044 (c/n 9654)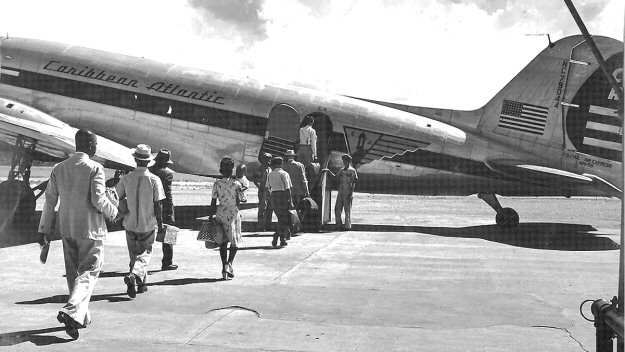 Although Caribbean-Atlantic's DC-3s came from a variety of sources, the old PCA rudder treat-
ment was continued on the acquisitions, although a new winged triangle logo was developed. The
Trigo bothers, owners of the fledgling airline, recognizing the fact that they needed experience help
to run the airline, in 1946 appointed Jose M. Sierra, with his previous experience at TWA and Pan
Am, as Chief Pilot and Operations Manager. The above image, as indeed have all of the photos in
my Caribair selection, came from Jose's son, Wlliam W Sierra. NC79044 was an ex USAAF
C-47A-DL acquired in 1946 direct from military surplus.