Caribair Douglas DC-9-31 N939PR (c/n 47120)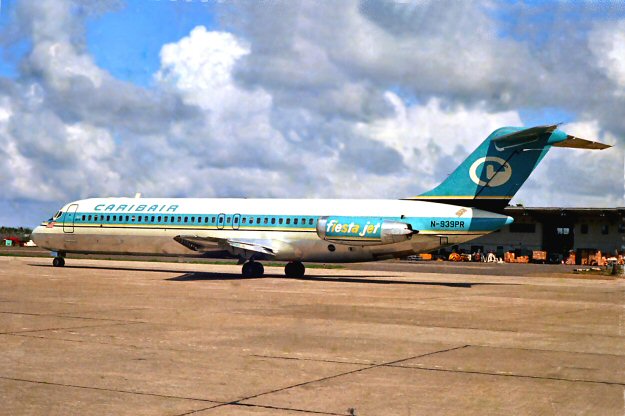 In December of 1967 Caribair acquired two DC-9s, augmented by a third in March of 1968. As can
be seen, they were dubbed 'Fiesta Jet". The above shot was taken by William W. Sierra, whose father,
Jose M. Sierra, was Chief Pilot and Operations manager. The photo below shows it in original livery
with 'Caribair Puerto Rico' titling. Shortly after this, however, the airline's fortunes seemed to be on the
wane. Dionisio Trigo himself appeared to have lost some of his former zeal, possibly since his request
for subsidy relief (he had been paying his own way for years) was rejected. In addition to this, Caribair
was now finding itself in competition with Third Level airline, Prinair. To compound its misfortunes the
airline lost its case for a nonstop route from San Juan to Miami. It came as little surprise then when, on
27 October 1970, Eastern Air Lines made an acquisition bid. For $10.4 million the larger carrier would
absorb Caribair's assets in the form of routes, properties and the three DC-9s (but not the CV 640s),
and on 21 May 1971 the C.A.B. approved a straight merger of the two companies. This gave Eastern
a much needed foothold in the Caribbean. Thus Caribbean-Atlantic, one of the most colorful of the
U.S. Territorial airlines, passed into history.