Carco Air Service Beech C35 Bonanza N698D (c/n D-2976)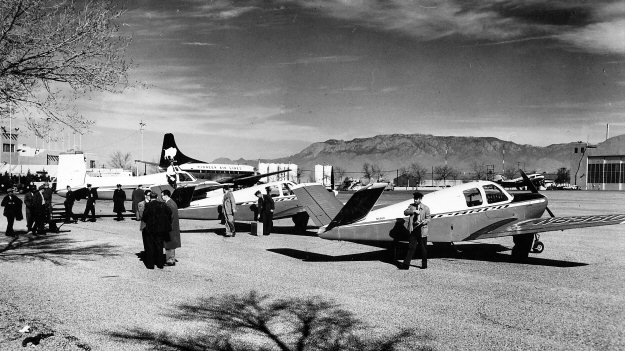 Carco Air Service was founded in 1948 by Clark Carr and George Shleppy and flew a very
specialized route. Recognizing the need for scientists to get from Albuquerque Airport to the
Atomic Energy Commission station at Los Alamos, Carr provided regularly scheduled service
using six or seven Beech Bonanzas and a single Twin Bonanza. The latter is seen more clearly
in the photo at the foot of the page. By 1964 he was providing seven round trips per day.
The photo above shows a typical scene at Albuquerque in the early 1960s. (Note the Pioneer
Martin in the background). The bloke walking past the nearest Bonanza looks like a taxi driver
......which, in fact, was about what he was. Also note scientists in suitable scientist's garb! I am
not sure when Carco ceased operations, but I believe it was somewhere around 1965.