Capital Airlines Douglas DC-6B N6527C (c/n 43527)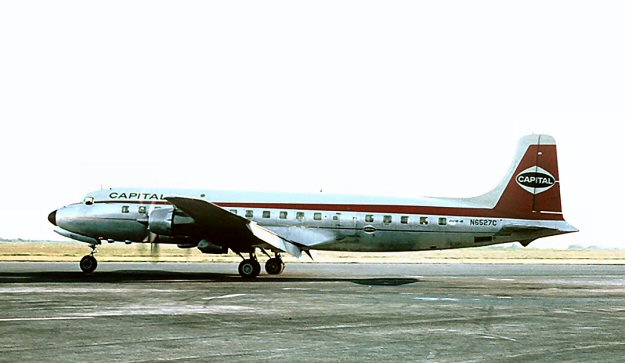 By 1958 Capital had received CAB approval to serve Florida. At the end of 1959, seeking extra
low cost capacity, the airline entered into an agreement with Pan American to lease seven of their
DC-6Bs. In essence, this was a last desperate attempt to keep the airline alive, and the leases
were terminated just over a year later when United absorbed Capital in mid-1961, details of which
appear in the prior entry.. Photographs of the DC-6B in Capital markings (and what a horrible
livery it was, too) are extremely rare and I am indebted to Tom Kim for this image taken at the
Greater Rochester International (Monroe County) Airport in June of 1960. Tom points out that,
although taxying out for take off, the pilot appears to have selected full flap. Short runway, or just
testing? The DC-6Bs returned to PAA after the lease, and got their blue globe tails back.