Canadian Colonial Airways Douglas DC-2 CF-BPP (c/n 1411)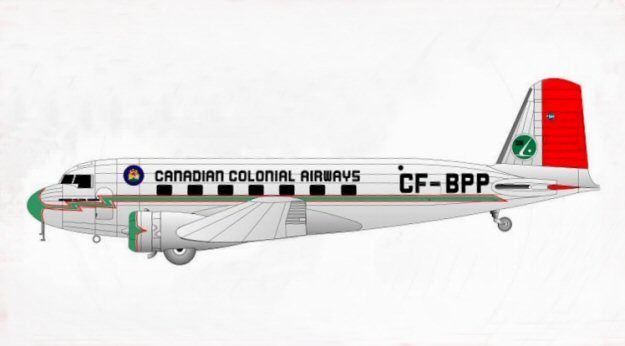 I have been seeking photographs of Canadian Colonial Airways Douglas DC-2s for over thirty
years now. I have bits and pieces of some......noses, tails, etc., but nothing of the whole aircraft.
In fact, it was only in 2009 that enthusiast Mike Sparkman provided me with a shot of one of their
DC-3s (see following entry). The above drawing came from the Blue Mountain Hobbies
Whiskey Jack decal website and is very nicely done, albeit that it is a modified DC-3 rather than
a true DC-2 (note absence of nose landing lights). Clearly I would give major body parts to
acquire some good quality actual photographs of CCA DC-2s. I am beginning to think that no
one ever took photographs of them. The original Canadian Colonial Airways was absorbed into
American Airways in 1930. In 1934, when the air mail bids were reopened to the airlines,
American spun off its Colonial Division into a new seperate airline, although retained a controlling
interest. . Its main route was from NewYork to Montreal. CF-BPP was ex NC14925 and, not
surprisingly, was a former American Airlines machine. When first imported into Canada it became
CF-BLL but was re-registered for some reason.. This appears to be the only aircraft to bear a CF-
registration, the other three being NC registered.