Cal-State Airlines Handley Page HP.137 Jetstream 1 (c/n 216)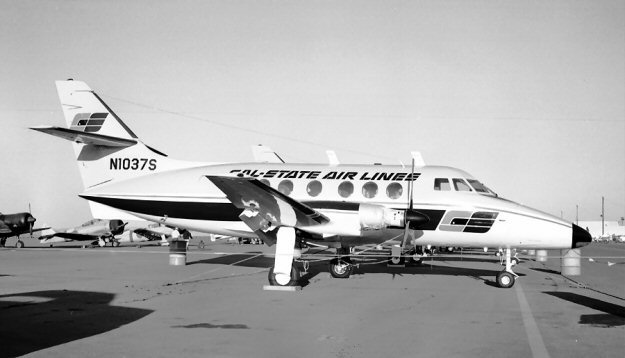 Cal-State began scheduled operations on 11 November 1968 between Long Beach/Los Angeles
and Santa Barbara, Bakersfield and Fresno. It operated mainly Beech 99s although had at least
one Beech D18S (well, actually an ex C-45). In 1969 it ordered six Jetstreams from Handley Page.
This aircraft had been designed from the outset to meet the requirements of the United States regional
airline market.. Beset by engine problems and with development costs by far exceeding estimates,
production was limited to 36 series 1 machines and, in fact, Handley Page went bankrupt. (The
design was later produced in small numbers by Scottish Aviation's Jetstream Aircraft Co. This later
gave rise to the development of the far more successful Jetstream 31).
Cal-State, meanwhile, like many small lines of its ilk, was suffering high operating costs and low
revenue passenger miles, and, in the event, although the six Jetstreams were delivered they were never
operated and were stored at Reno Airport, Nevada . Cal-State itself folded shortly afterward, the
last schedule being flown in May of 1970. The six early Jetstreams were later modified to Series IIIs
and eventually found markets. The image above, from the William T. Larkins collection, was taken at
Reno in late 1969.
.