Britt Airways Beechcraft 99 N317VA (c/n U-72)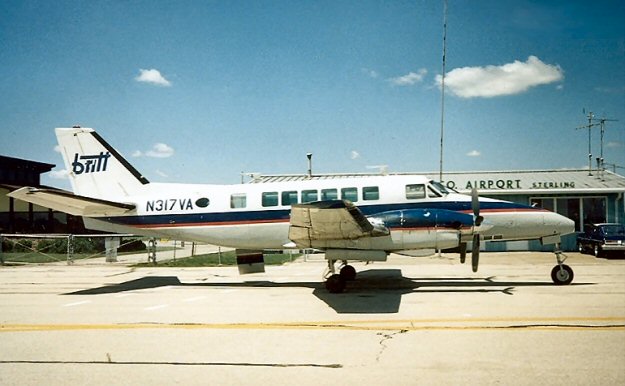 In 1973, Vercoa Air Services, which had been formed by William and Marilyn Britt changed its name
Britt Airlines, and moved its headquarters to Terre Haute, Indiana, although continued as part of the
Allegheny Commuter Service. In 1976, when Ozark Air Lines wanted to shed Sterling/Rock Falls
and Galesburg from its route structure, a new company, Britt Airways, was formed to provide service
to these points from O'Hare. This independent operation was run separately from the Allegheny
Commuter operation and was not tied in that same way to Ozark. By this time some ten Beech 99s
were in service. (Over the years Britt operated some 18 of them). Seen above is the same Beech 99
as portrayed in the previous entry for Vercoa Air Services, repainted in full Britt Airways livery at
Sterling/Rock Falls Whiteside Bittorf Field in June of 1985 in this photo by Gary C. Orlando. .