Bar Harbor Airlines Beechcraft 99 N200WP (c/n U-3)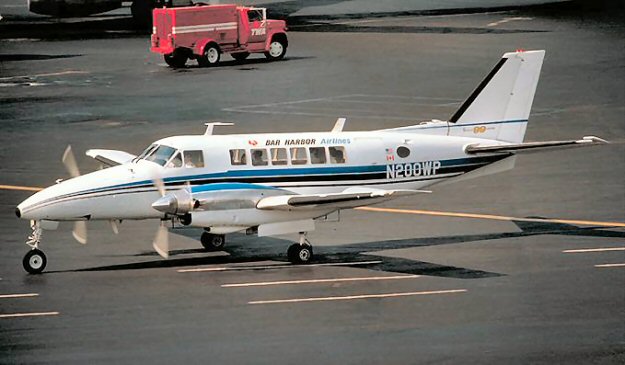 Bar Harbor Airlines expanded in the early 1970s to include Portland and Bangor, Maine and
Quebec City, Canada to its route structure. The Cessna 402s were augmented by a modest
fleet of Beechcraft 99s, although eventually over 30 of these purpose-built commuter min-air-
liners would be operated by the airline. Seen above is N200WP, one of the two Beech 99s
acquired in 1974 in this nice shot by Tom Hildreth, taken at Boston Logan in June 1975.
N200WP was to be written off on 16 August 1976 when, on a repositioning flight from Bangor
to Bar Harbor it struck Lamoine Ridge, 5 km NE of Bar Harbor in poor visibility. The ferry pilot
was not seriously injured.
Far more serious was the crash of another Beech 99, N300WP, while on final approach to Auburn
Airport, Maine on 25 August 1985. The pilot lost the localizer beam and crashed into trees some
1200 meters from the runway threshold. The crew of two and six passengers were killed. One
of the passengers was 13 year old Samatha Smith who had become famous when she wrote to
Soviet Communist Party General Secretary Yuri Andropov regarding nuclear testing and received
an invitation to visit the Soviet Union, which she accepted.