Braniff Airways Detriot-Lockheed DL-1 Vega NC8495 (c/n 156)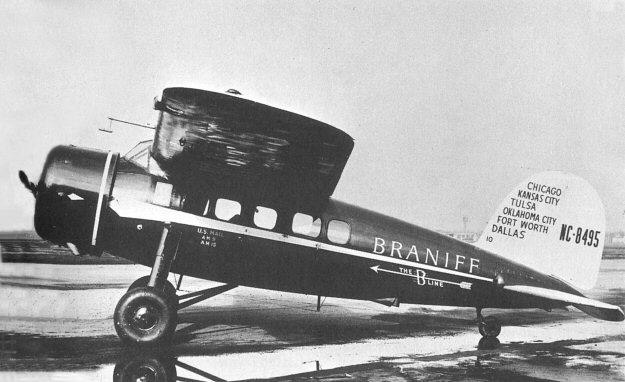 By 1931 Braniff had extended its routes from Oklahoma City north to Chicago and south to Dallas.
A fleet of Lockheed Vegas was acquired to fly this extended mileage and, over time, the airline
operated a dozen of them. The DL-1 was unusual in that the metal monocoque fuselages were
fabricated in the shops of Detroit Aircraft and then shipped out to Lockheed in California where
they were mated with the wooden cantilever wings. In 1935 Braniff acquired Air Mail Route 15
(AM-15) from Long and Harmon and extended service to encompass "From Great Lakes to the
Gulf". Can you imagine riding a Lockheed Vega from Chicago to Brownsville, Texas? The above
Braniff supplied shot was evidently taken before the expansion to the Gulf Cities.