Braniff International Airways Douglas DC-7C N5900 (c/n 45068)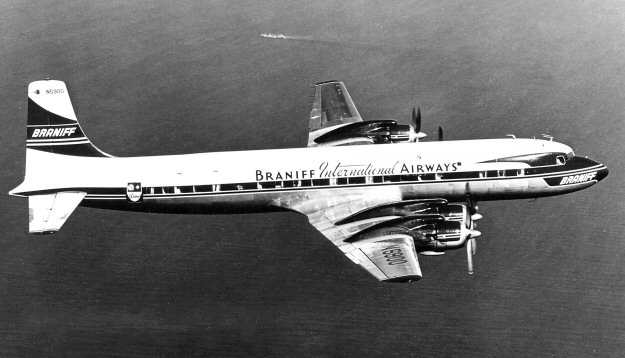 In 1956 Braniff ordered a fleet of seven Douglas DC-7C airliners. This was the long range version
of the DC-7 dubbed, for obvious reasons, the 'Seven Seas'. Braniff had (by the standards of the day)
some long stage lengths in its South American routes and needed the endurance provided by this, the
ultimate of piston engine airliners. Not only was the DC-7C some 42 inches longer than the DC-7
but it also had an additional 10 ft wing span increase. The above photograph was supplied by Braniff
although it depicts the first of the fleet over Long Beach Harbor prior to delivery to Texas. The lower
photograph was taken at Los Angeles Airport (LAX) whilst

N5905

was being used on an Interchange
service with TWA in 1957. The revised livery scheme introduced by this latest addition to the fleet
is apparent in both photographs. .