Braniff International Airways Douglas DC-6 NC90809 / N90883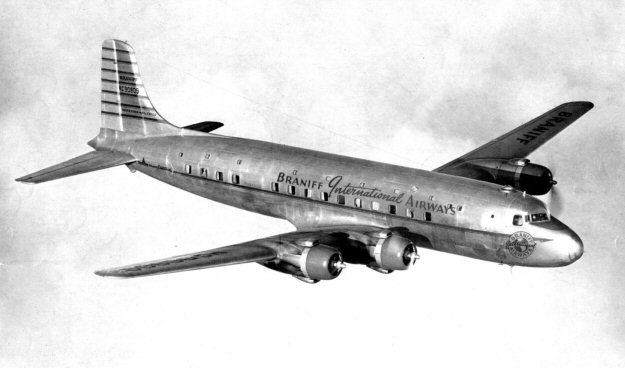 Replacing the DC-4s in 1948 was Douglas' first post-war new design, the DC-6. Although
pressurized, the DC-6 was little more that a stretched DC-4 (81 ins longer), with square windows.
Power was supplied by four Pratt & Whitney R2800-CA15 Double Wasp engines developing
2,100 hp each. Initial South American services (dubbed 'El Conquistador' flights) routed from
Houston to Lima. Peru, although by May of 1950 the service was extended all the way through
to Buenos Aires, Argentine. Shown above in this Douglas photograph is NC90809 in the insignia
of the day. Interestingly, this aircraft was a Douglas demonstrator and never did fly scheduled
services for Braniff. In the event it went to United Airlines and was re-registered N37536. A
true Braniff DC-6 is seen below (N90883) wearing the livery adapted in 1952 when the Convairs
were delivered. This photograph was from Braniif Airways .