Braniff International Airways Boeing 720-027 N7078 (c/n 18154)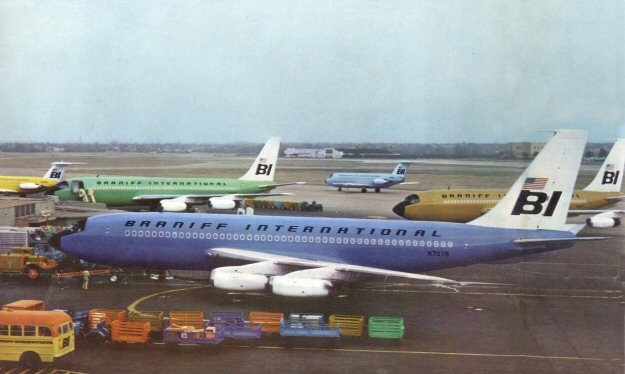 In April 1965 Harding L. Lawrence took over as president and CEO of Braniff Airways. An innovator,
he soon hired the Tinker Agency, a high powered Manhattan advertising agency as the airline's publicist.
Mary Wells of that agency came up with the idea of hiring two top designers to re-vamp the airlines image.
Italy's Emilio Pucci designed all new wardrobes for both flight and ground personnel (unveiling them in his
Florence fall collection) whilst American designer Alexander Girard came up with new aircraft exteriors,
interiors, ticket offices and club rooms. The end result, often called "Flying Colors" is what you see above.
Jet planes with white wings and tail and each one in seven different solid colors: yellow, orange, turquoise,
dark blue, light blue ochre and beige. "We believe people appreciate technology, but they love beauty"
stated Lawrence. Whatever. In the event this probably started the trend to the colorful designs we see
flying the skies today - some good, some not so good. N7078 above at DFW (Dallas-Fort Worth Inter-
national Airport) is surrounded by other lovelies in 1966. (Even the baggage carts were not spared).