Aspen Airways Douglas DC-3CS1C3G N345A (c/n 9397)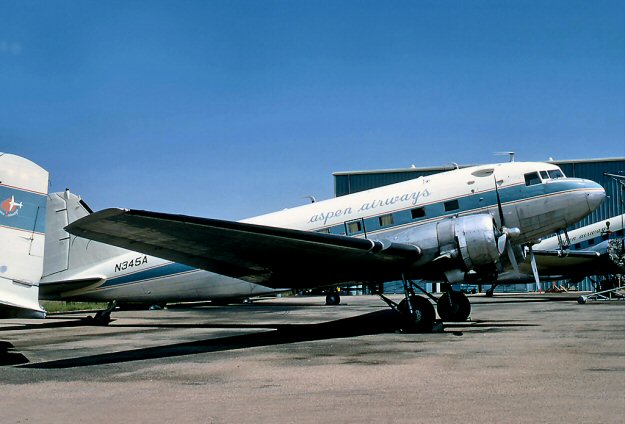 Aspen Airways was established in 1952 as an air-taxi service using a Cessna 310A and several
other small aircraft. Scheduled Denver-Aspen, Colorado passenger service began in 1962 using
a single DC-3 (N22Z). Two others were acquired during the 1960s (N222LW) and N345A,
seen above in this shot by Bob Garrard at Denver's Stapleton International Airport in July of 1972.
In the mid 1960s the airline later expanded to begin linking California cities with the Aspen ski resort
at which time the DC-3s were augmented with a single Fairchild F-27 (N15001)*, two Convair 240s
(N270L and N91237)* an unconverted (to 440 standard) Convair 340*, plus several old Delta Con-
vair 340s which had earlier been converted to 440s (q.v.). Interestingly, the DC-3 above started life
as a USAAF C-47A-20-DL (42-23535) which "did its time" in the South East Asia theater with the
RAAF with the call sign VH-CDJ. After the war it was demobbed in the Phillipines as PI-C127 and
then was brokered by William C. Wold and Associates (as N94597) to Pacific Western Airlines
where it spent many years as CF-PWC.
* If any contributor can come up with photos of these three types in Aspen livery, I would be grateful.