American Overseas Airlines Douglas DC-4 NC90906 (c/n 27310)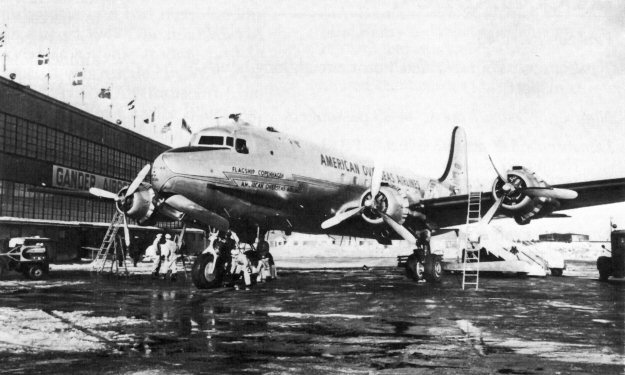 Immediately following WW II American Export Airlines was granted wide new overseas routes
(despite Pan Am's protestations). These included the whole of northern Europe above the 50th
parallel. However, despite receiving these awards the airline nevertheless agreed to merge with
American Airlines Inc. (Transatlantic Division) and thus American Overseas Airlines was born on
10 November 1945. Initial transatlantic flights were made with DC-4s. For some reason, photo-
graphs of AOA aircraft are extremely difficult to come by. The poor image above came from an
American Airlines pamphlet acquired by my father at one of their booking offices in London just
after WW II. It shows "

Flagship Copenhagen

" receiving treatment at Gander, in Newfoundland.
(If someone with access to American Airlines archives could send me a decent scan from an original
print I would be ecstatic to substitute it). Anyway, AOA's main route at that time was from La
Guardia to London via stops at Gander and Shannon in Ireland. The piston engined airliners of the
day did not have the range to make the transatlantic crossing without refueling.