American Overseas Airlines Boeing 377 Stratocruiser N90941 (c/n 15957)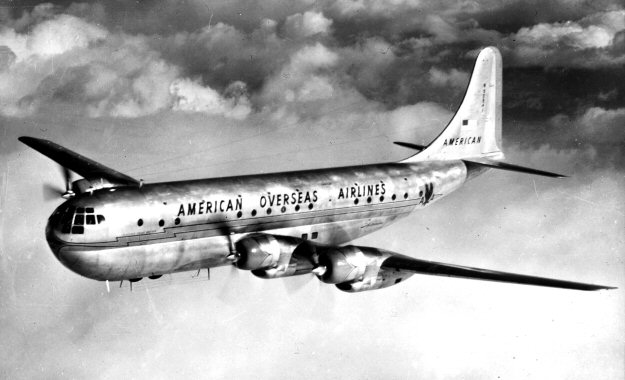 Hot on the heels of the Pan American order for Stratocruisers in November of 1945 came one
from AOA in April of 1946. PanAm's were first into service in April of 1949, but AOA weren't
far behind, inaugurating schedules with the first of their eight aircraft (the machine seen above)
between New York and London on 17 August 1949. Speculation was rife in the late 1940s
about a merger between Pan American and American Overseas. However, the CAB ruled
against this in May of 1950. In an unprecedented move, President Truman overruled the Board
in Pan Am's favor and authorized a merger with AOA on 25 September. His reasons for allow-
ing this have never been made public, but it is thought that it may have rued his earlier negative
judgments against Juan Trippe's airline in previous Latin American, North Atlantic and North Pacific
Cases, and decided to give something back. Just about all of AOA's fleet was absorbed by PAA
and given Clipper names. "

Flagship Great Britain

" above after also flying with AOA as "

Flagship




Europe

" and "

Flagship Scandinavia

" was renamed "

Clipper America

" (later "

Clipper Australia

").
It was damaged beyond repair in a belly landing following a landing gear failure at Tokyo on 9 July
1959.