American Airlines Vultee V-1A NC13767 (c/n 5)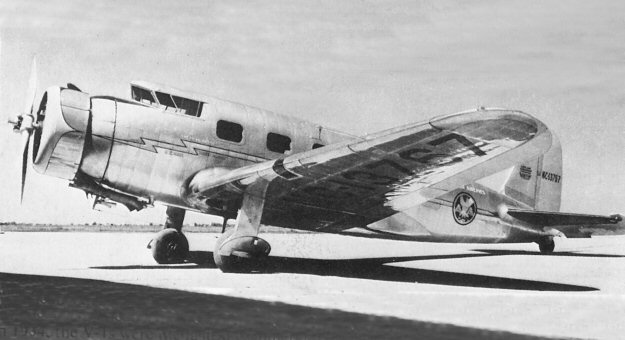 In 1934 American Airlines placed 10 of these high speed single engined airliners into use mainly
on their Fort Worth-St.Louis-Chicago route. It was, in fact, the first new type introduced by
the company after the air mail fiasco had changed the corporate name to American Airlines.
The new airline was tied loosely to the Vultee Aircraft Corporation and had more or less been
"persuaded" to operate the aircraft. However, they didn't last long with American since the DC-2
and DC-3 came out within a couple of years and single engined airliners became passé. Eight
passenger airliners, no matter how fast, just were not economically viable. The rare shot below
(acquired from Consolidated Vultee in the 1950s) is believed to to be that of the first production
model V-1A (NC13764) being accepted by Cyrus R. Smith, President of American Airlines
(on the right) from Gerry Vultee (on the left, with dark glasses). Finally at the foot of the page
is an equally rare shot of the interior of an American V-11 taken by G.A. Robinson, co-founder,
(with Keith Virtue) of Airlines of Australia who took the photo whilst in the U.S. in 1935 on an
an aircraft acquisition tour for his new airline.