American Airlines McDonnell Douglas MD-11 N1762B (c/n 48552)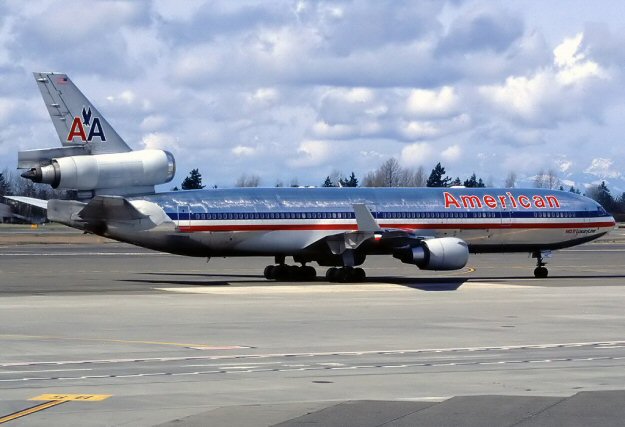 The MD-11 (was to have been the DC-11) was an updated version of the Douglas DC-10 which
first flew in 1986 (the original order came from the now defunct British Caledonian Airlines).. The
most noticeable difference, (from a spotter's point of view) are the winglets, although the MD-11
is almost 20 feet longer than its predecessor. After Boeing took over the McDonnell Douglas
concern in 1997 the decision was made to continue building MD-11s although primarily as
freighters. In reality, the last MD-11 was built in 2001, and Boeing terminated the line. American's
fleet of eleven of these wide-bodied jets is destined to be converted to freighters and sold to Fedex.
The above shot (with gorgeous cloud effect) was taken by Steve Hill and shows N1762B arriving
at Seatlle/Tacoma inbound from Tokyo Narita in February 1999.