Altair Airlines McDonnell Douglas DC-9-32 N901AK (c/n 45846)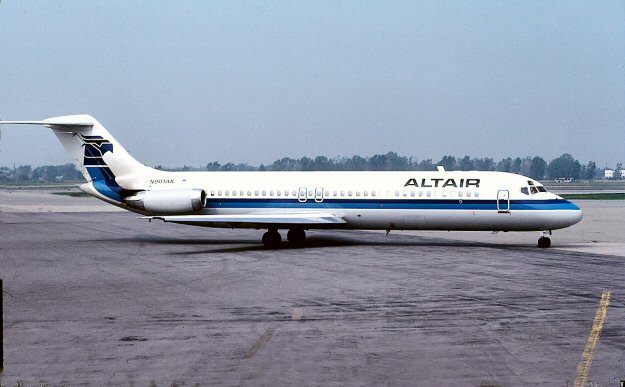 Early in 1982 Altair acquired three ex-Air Canada DC-9s. The first was the former C-FTKL, seen
above in this rare shot by Trevor Ogle at the Niagara (Greater Buffalo) International Airport in Sept-
ember of 1982. ...............And then, as quickly as it had all started back in 1966, Altair was gone.
On 9 November 1982 it filed for Chapter 11 bankruptcy. Clearly, the up-and-coming regional air-
line, which by then was serving cities as far afield as Buffalo, Hartford, Providence, Boston, Tampa,
Memphis, Raleigh /Durham and Savannah from its hubs in Philadelphia and Newark had succumbed
to the too rapid expansion syndrome, and this, coupled with under-cutting by de-regulation upstarts
forced it out of business.. For a while the fleet was laid up in Philadelphia, but eventually homes
were found for the bulk of them. The DC-9 above went back to Air Canada the following year.