Aloha Airlines Boeing 737-297 N73711 (c/n 20209)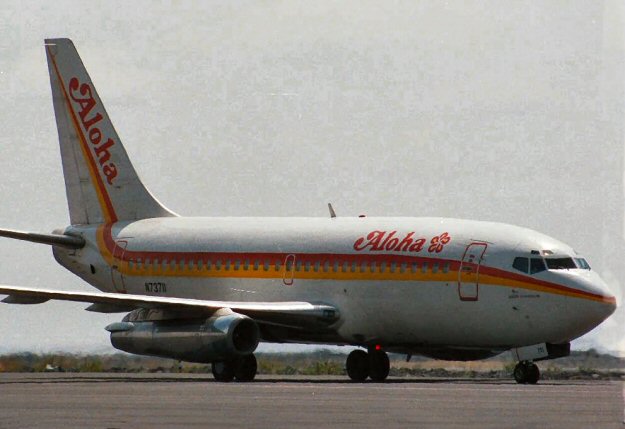 The series 200 Boeing 737 has been the airliner of choice for Aloha for almost 40 years. Initially
they were leased, but in the 1980s they also purchased some new ones. The current fleet are mostly
second hand.....ooops, make that previously used, and also leased. N73711 seen above at Kona
in this shot by Bruce Highland in 1987 was one of the leased ones. It is wearing a livery scheme used
in the early 1980s. The original scheme had an hibiscus flowered fin and rudder in red and yellow.
as seen in Howard Chaloner's shot below in August 1975, also at Kona. Anyway, one year after the
above photo was taken (28 April 1988) this particular machine suffered cabin decompression during a
flight from Hilo to Honolulu. At approximately 24,000 feet some 18 feet or so of the cabin aft of the front
door separated from the fuselage. One cabin attendant was sucked out, but miraculously there were no
passenger fatalities, (although they all got a very windy ride) and the aircraft was able to make an emer-
gency landing at Maui Airport. The cause was attributed to severe metal fatigue. The effect of so many
take off and landing cycles (the airlines in Hawaii have probably the shortest stage lengths of any of the US
carriers) had hitherto been unknown. The airline was deemed negligent by the FAA in failing to detect
the fatigue damage, although the agency itself was partly to blame in not assessing the airline's inspection
procedures.