Allegheny Airlines Convair 580 N5806 (c/n 168)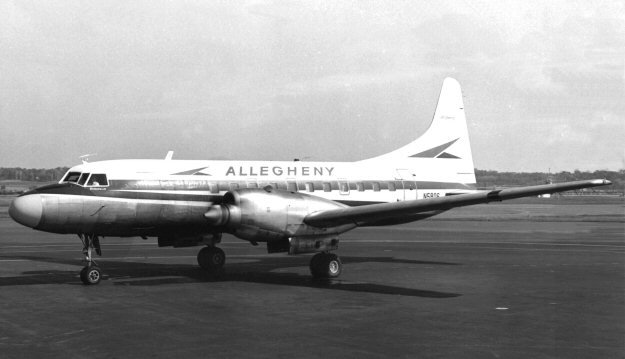 This aircraft began life as United Airlines' N73150 "Mainliner Salem" delivered in 1954.
It appeared to have led a rather "on again - off again" existence after that, being converted
first to a Convair 540 by Turbo Prop Conversions (Napier Eland turboprops) as N543Z,
then to Allegheny, then back to Turbo Prop again to have the Elands taken off and be
converted back to a 'straight' CV 440 and then back to Allegheny as N8427H. It was
finally converted in 1965 to a true Convair 580 with Allison 501 turboprops, becoming
N5806. In later life, following a stint in Canada, it wound up in 1994 with Air Freight
NZ Ltd of Christchurch, New Zealand and is, I believe, still flying (late 2005).

.