All American Aviation Stinson SR-10C NC21131 (c/n 3-5856)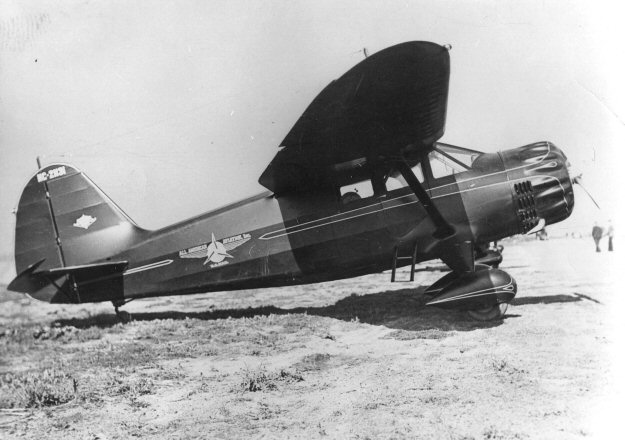 In addition to the

"Proof-of-Concept" machine described in the previous entry, AAA operated no
fewer than 9 Model SR-10Cs in addition to one other SR-10J in their Mail Pick-Up fleet. Shots
of them

not

doing their mail pick-up "thing" are rare The above image (with titling close-up below)
is from the Rick Warfel collection. Rick's grandfather was head of personnel for AAA, and not
only hired pilots and mechanics, but also trained them in the in the art of Air Mail Pick-up. His dad
and uncle later flew for Allegheny and USAir. AAA also experimented in human pick-ups and were,
I think, the first to do so. (Must have been a terrific jolt, I should think, for guy being snatched!).
The operation was not without its mishaps, as shown in Rick's photo at the bottom of the page of
the result of one of these prangs.
As a follow-on, post-war in 1946 the airline contemplated upgrading the Stinsons with Noorduyn
UC-64 Norsemans, but, in the event, only one was acquired (NC3717) and by that time the com-
pany had expanded into traditional airline routes (as All American Airlines) and the pick-up service
was abandoned.