Alaskan Airways Fairchild 71 NC155H (c/n 663)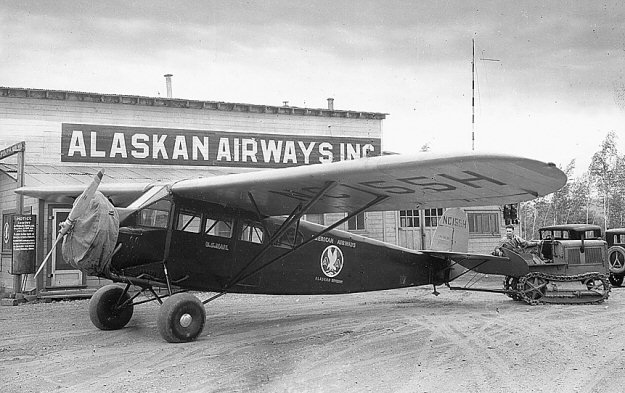 This historic shot is from the archives of the Museum of Alaska Transportation and Industry
and is shown here courtesy of the Lars Opland collection. It shows one of the fleet of Fair-
child 71s operated by Alaskan Airways Inc., between 1928 and 1932. This company was
set up by Alaskan aviation pioneer Ben Eielson as an operating subsidiary of the Aviation
Corporation of America. This conglomerate, of course, was the financial holding unit which
owned (among other things) American Airways, hence the badge and titling on the fuselage
of this machine. Alaskan Airways basically combined the routes set up by Wien, Bennett &
Rodebaugh and Anchorage Air Transport. This covered territory from Fairbanks to Point
Barrow and to McGrath and also points northwest of Anchorage. Unfortunately Eielson
himself was killed in an accident on 9 November 1929. Alaskan Airways Inc was purchased
by Pacific Alaska Airways (a Pan American subsidiary) in June of 1932, and most of its
Fairchilds and other small aircraft passed to that company..