Alaska Airlines Douglas DC-4 N88756 (c/n 10397)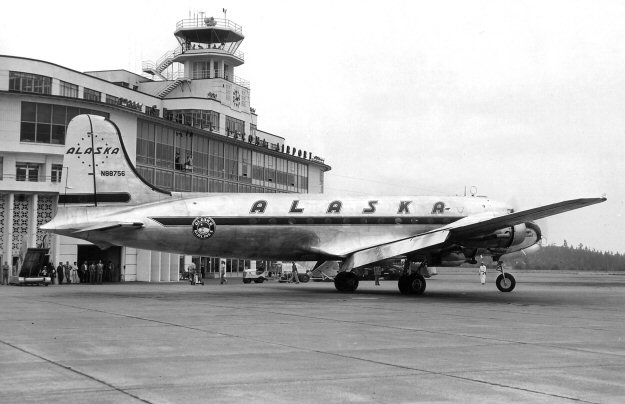 This nice shot of a DC-4 was actually the first photograph I received from Alaska Airlines back in
the 1950s. It depicts the aircraft departing SEATAC's old terminal building. N88756 was built
as a C-54A-15-DC with USAAF serial 42-72292 but transferred immediately to the US Navy as
a R5D-1, BuAer 50849. Alaska acquired it in 1948 in anticipation of receiving the coveted Seattle
to Anchorage route. In the event this award was not granted until 1951 and the aircraft was leased
to Guest Aerovias Mexico as XA-GUP in the interim, returning to Alaska in 1950. It led a varied
career after Alaska sold it in 1952 finally winding up as a casualty in the Biafran Air lift in Africa some
fifteen years later.