British Aerospace BAe 146 N602AW (c/n E2014)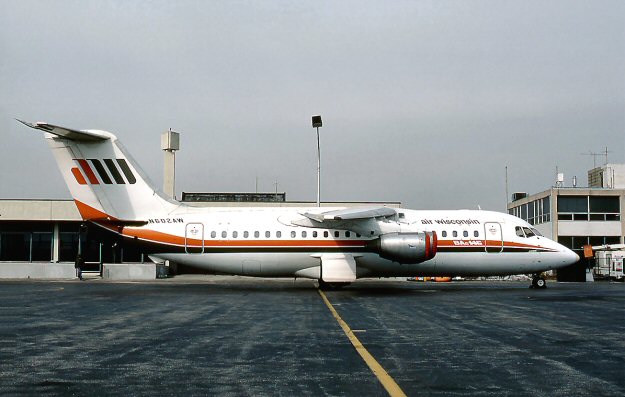 Originally conceived by de Havilland as the D.H.146, this project became the HS 146 when
de Havillands were taken over by the Hawker Siddeley Group, whereby the design was known
as the HS 146.. In the event, the whole compendium was reworked into the British Aerospace
organisation by the time production of this "quiet" medium sized airliner got under way. As with
the Dash-7s, Air Wisconsin were a very early orderer. Incidentally, I worked, as a contractor,
on some of the manufacturing production IT systems software at Hatfield in 1988 when the last
of Air Wisconsin's 146s were on the line (N610A-N612AW). N602AW seen above in this
shot by Bob Garrard at the Igor I. Sikorsky Airport, Bridgeport, Connecticut in February 1987
was the second to be delivered. Soon after this photo was taken it was to acquire a "United
Express" livery. Air Wisconsin had pioneered the concept of code-sharing with United Air Lines
and, in fact, became the nation's largest regional airline in the 1980s. In 1985 it acquired Mississippi
Valley Airlines, and then, in 1990, took over Aspen Airways. A year later it was bought out by
United, although sold again by UAL in 1993 wherein the company was renamed Air Wisconsin
Airlines Corporation (AWAC). As such it is still current and is now a contingent of US Airways
Express.