Air West Douglas DC-9-31 N9345 (c/n 47441)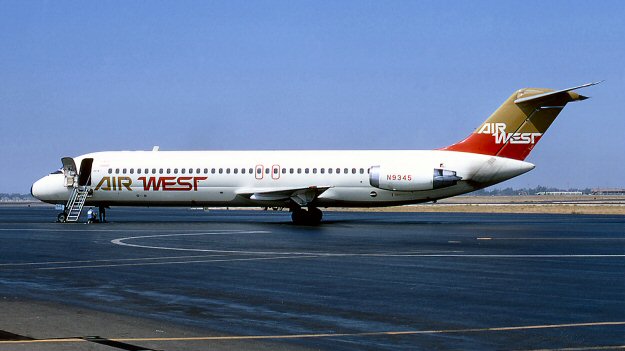 When Air West was formed in 1968 they gained half a dozen series 14 DC-9s from West
Coast and Bonanza and then proceeded to order a dozen new series 30s of their own.
N9345 was one of the latter and was delivered to the airline in June of 1969. One month
later the chief shareholder, Nick Bex, the former owner of West Coast Airlines sold off his
controlling interest in Air West to Howard Hughes who, within a year, renamed the airline
Hughes Air West. As stated on the prior page, photographs of "pure" Air West aircraft are
not the most common. The above super shot was taken by Bob Garrard at Santa Ana's John
Wayne County Airport in July of 1970. In early 1969 four color schemes were adopted by
Air West utilizing the same basic livery design. They were: Blue and Mustard; Lime and Blue;
Pink and Orange and Mustard and Orange as seen on the DC-9 above.