Air New England Fairchild FH-227C N4216 (c/n 514)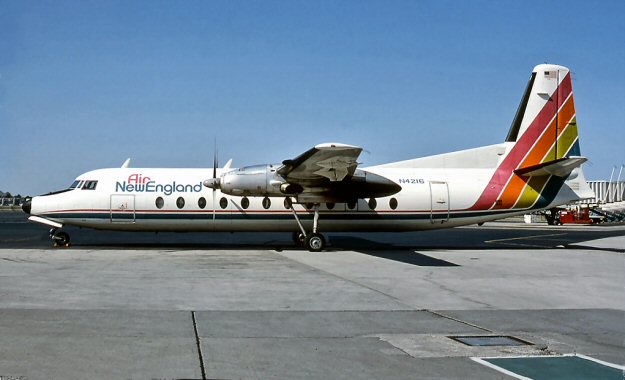 In 1975 Air New England received its Part 121 certification. It was, in fact, the first airline to be thus
certified by the CAB since Ozark, back in 1950. This allowed it to expand service to all six New Eng-
land states. To remain competitive on these routes it replaced its aging DC-3s with Fairchild FH-227s.
. Several of these were originally Northeast Airlines' machines, but N4216 seen above in this shot by Bob
Garrard at Boston's Logan International in May 1981 was an ex-Ozark aircraft. (Well, it spent three
years in Canada as C-GMAL from 1975 to 1978 before ANE bought it). By this time service had
expanded to Albany, NY, Cleveland and Baltimore-Washington airports. However, six months later,
on 31 October 1981, Air New England collapsed. With the onslaught of deregulation and its accom-
panying code sharing, the last of the stand alone commuter lines just couldn't make it.