Air Midwest Saab SF340A N342AM (c/n 011)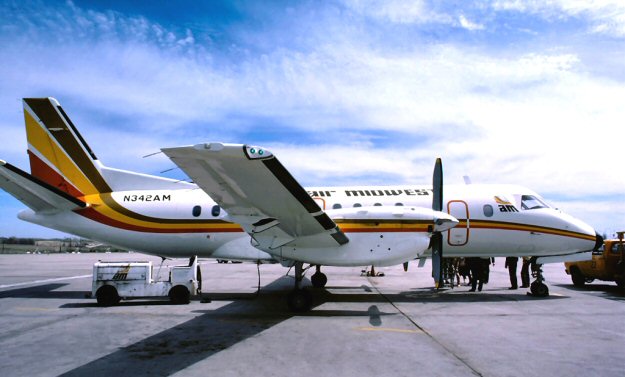 In 1985 Midwest merged with Fayetteville, Arkansas based Scheduled Skyways hoping that this
would gain them access to, and provide code shariing with, Republic Airlines at their Memphis
hub. In acticipation, a modest fleet of Saab 340s was ordered. N342AM, the first, is seen at
Kansas City in 1985 in this shot by David Grabbe. In the event Republic did not grant these rights
to Air Midwest and this, plus the extraordinary maintenance required to bring Scheduled Skyways
Metros up to standard almost brought the company to its knees. It did eventually gain codeshare
agreements with Ozark (as Ozark Midwest, although this went away when TWA acquired Ozark),
Eastern (as Eastern Air Midwest) and American (as, of course, American Eagle). When Eastern
pulled out of Kansas City, Air Midwest were left with virtually no one left to feed, although they
did make a deal with the second iteration of Braniff until that company also, went under.
Continuing cash flow problems forced them to sell off the Saabs, along with their Nashville hub
to American in 1987. By 1990 they were codesharing with USAir, and in 1991 the airline was
merged into the Mesa Air group.