Air Illinois Hawker Siddeley HS 748 N748LL (c/n 1716)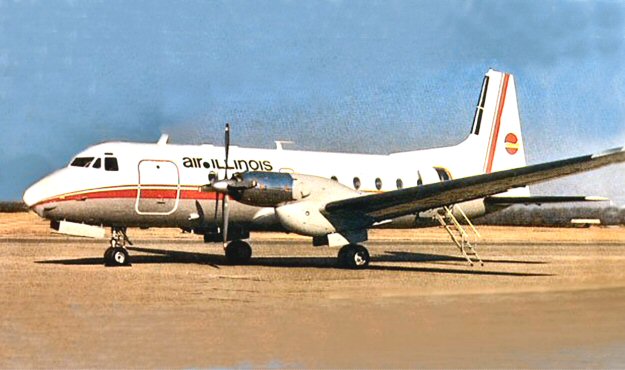 Another poor color image which came from a post card gleaned from Air Illinois in the late 1970s.
It almost certainly depicts the first of two 748s the airline acquired, thus making it N748LL (the
other was N749LL, c/n 1783). The airline had received its CAB certificate in 1980 N748LL
was to crash at Pickneyville, Illinois on 10 November 1983 when it plunged into a field following
electrical generator failures. The crew of three and seven passengers perished. The investigation
found the airline management's failure to provide, and the FAA's failure to assure, an adequate
company recurrent flight crew training program contributed to the captain's inability to assess
properly the battery endurance as the cause of the accident. Rather than returning to his dep-
arture point (Springfield, Illinois) he elected to continue on to Carbondale (the company's base)
with the disastrous results outlined above. This crash was probably the ultimate cause of the
airline's filing bankruptcy in December 1983. It continued in the charter business under Part
121 flight operations until 1985 when its assets were sold to Atlantic Gulf Airlines.