Air California Lockheed L-188 Electra N124AC (c/n 1114)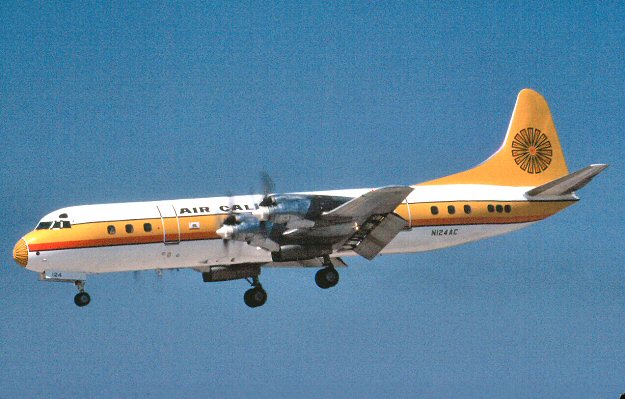 Air California (later truncated to AirCal) was a regional Calfironian instrastate carrier formed
in January 1967 to service various high density areas points within the state, using, wherever
possible, secondary airports (such as Burbank in the L.A. area). It was originally founded
by a partnership of Orange County businessmen as an alternative to the service being provided
by the regular trunk carriers. First flights were between Orange County (John Wayne) Airport
and San Francisco using Electras. Following deregulation in 1979 the airline expanded beyond
California's borders to serve Reno, Nevada and Portland, Oregon. Seen above in this shot by
Frank C. Duarte, Jr. is one of the half dozen or so Electras operated by the line, landing on short
finals at San Diego's Lindbergh Field in June of 1978. N124AC was formerly Braniff's
N9708C. It was withdrawn from use by AirCal in 1980 since by then the airline had re-
equipped with Boeing 737s.