Aeromech Embraer EMB-110P1 Bandeirante N615KC (c/n 110.230)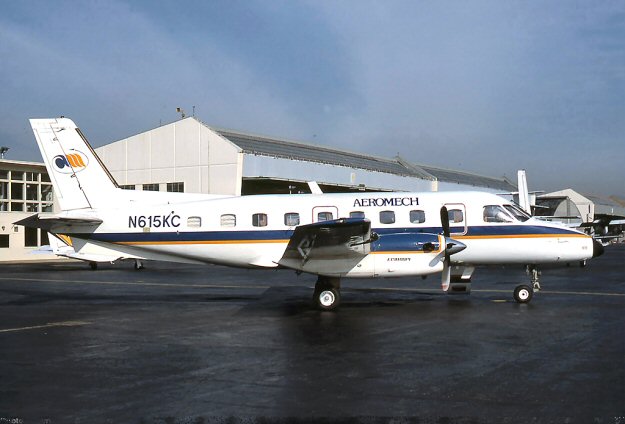 Aeromech Inc was formed in 1951 by Angelo Koukoulis as an FBO in Clarksburg, West Virginia.
Regular commuter services commenced in 1971 and the airline became an Allegheny Commuter
unit. Routes centered on Washington, D.C., Baltimore, Cincinnati, Columbus, Greensboro N.C.
and many cities within West Virginia. Scheduled services were inaugurated with Cessna 310s
and 402s. These were augmented in the 1970s by four Beech 99s. In 1979 an order for six
Embraer Bandeirantes was placed, and these were quickly delivered by the Brazilian manufacturer.
Bob Garrard's excellent shot above shows the second Bandeirante to be delivered on the ramp at
the old commuter terminal at Washington National Airport (Ronald Reagan National) in April, 1981.
In October 1983 Aeromech merged with Cleveland-based Wright Airlines. For a while the result-
ant line was known as Wright/Aeromech although, as is common, the name of the mergee was soon
dropped.