All American Aviation Stinson SR-10F NX2311 (c/n 5910)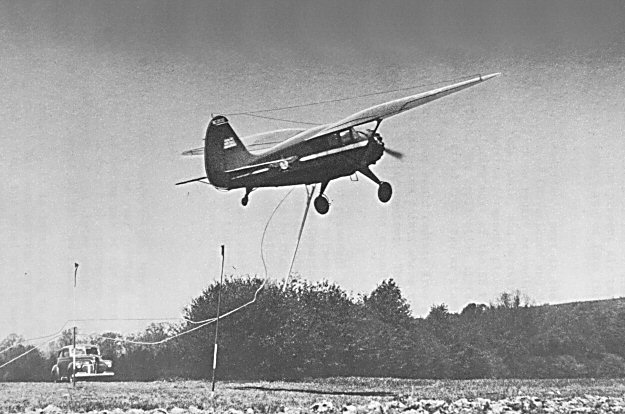 Allegheny Airlines (and by extension, the now giant US Air) began life as an air mail pick up
company serving small communities in Pennsylvania and West Virginia. This blurry shot shows
a Stinson grabbing the mail via a cable at Irwin, PA in 1943. The incoming mail was dropped,
and the outgoing mail snagged, in a bag tied with a wire between the two poles. This "goal post"
technique was developed by Dr. Lytle Adams, and was able to provide air mail service to
communities with no regular landing fields. (Actually 58 small towns were eventually served in
this way). Starting with three SR-10s, the fleet grew to eleven machines by the end of WW II.
In 1949 AAA gave up its air mail business in favor of passenger services when it was granted a
C.A.B. feeder certificate and graduated to DC-3s.