ZK-AYL Douglas DC-3CS1C3G (c/n 14563/26008)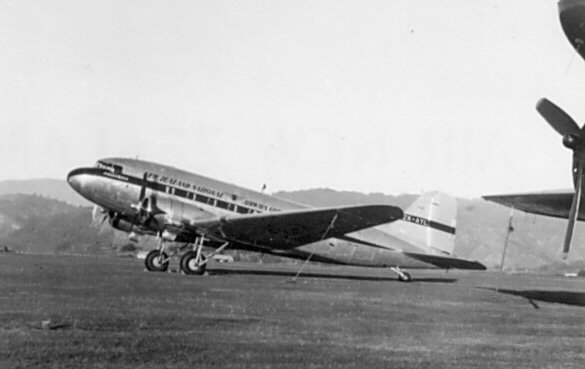 Taken on the same day as ZK-AYK with equally pathetic results. The thing is, I don't
see any other better images out there for these NZNAC DC-3s. Anyway, sister ship
to ZK-AYK. Was a C-47B-5-DK, serial number 43-48747, NZ3527 in the RNZAF.
To NZNAC in 1951 as ZK-AKL (originally named 'Piwakawaka' and later 'Whatatane').
Converted to DC3-C Skyliner status in 1964 and named 'Skyliner Hastings' and later
'Skyliner Timaru'. Sold to Lao Airlines in Vientiane as XW-TDH in 1968. Sold in USA as
N8056 and registered to Somerset Area Vocational School, Somerset, Kentucky, USA
from 1971-1975, probably as an instructional airframe. Further details and ultimate fate
unknown.