ZK-AXS Douglas DC-3CS1C3G (c/n 15995/32743)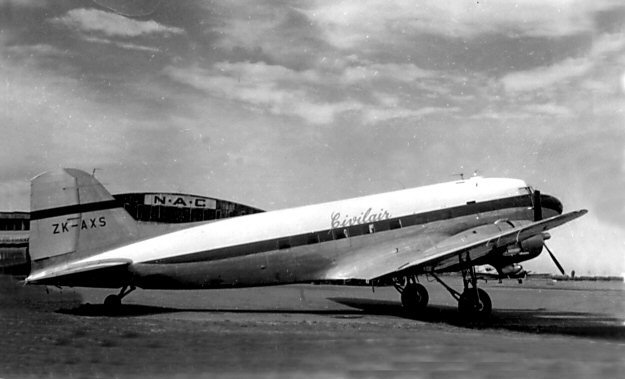 This DC-3 was operated by the New Zealand Civil Aviation Department ("Civilair") and
is seen here at Wellington in the early 1950s. The poor shot below shows it earlier in company
with some NZNAC machines. This aircraft was an ex-RAF Dakota IV (KN372) reputedly
used at one time by Lord Mountbatten in India during his time as Supreme Allied Commander
of SEA Command. It was originally built as a C-47B-25-DK with serial number 44-76411.
ZK-AXS was delivered to the Ministry of Transport Calibration Flight in October of 1950.
The aircraft was written off on 6 Nov 1970 when, during a downwind simulated take-off, it
turned off the runway and the right main landing gear collapsed. It was deemed damaged
beyond economic repair. The accident finding stated that the captain failed to abort the
simulated take-off in time resulting in overheated brakes. The carcas was used as a fire
service training aid for a while, and parts of it are, in fact, still in use today at Wellington
in a training capacity.